Nuraghe Crabioni
Tresmontes società agricola s.r.l.
via Umberto I, 30 – 07037, Sorso (SS)
Web: www.nuraghecrabioni.com/
Email: info@nuraghecrabioni.com
FB www.facebook.com/nuraghecrabioni/
Twitter @sussinkusorso
Instagram Nuraghe Crabioni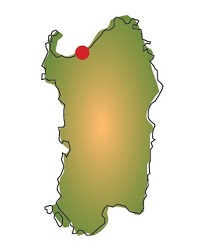 Winery Nuraghe Crabioni
Nuraghe Crabioni was born in 2003 and now covers 35 hectares of Sorso's territory (Province of Sassari, Sardinia). In this area has been set up the winery and many others company's infrastructures.  
The company is a relatively new business and has to give answers to a demanding market. The organization is, however, determined to grow as supported by talented employees within the company, new technology, outsourcing expertise, and based on the experience handed down through generations.
The area is particularly suitable for cultivation of vineyards due to the high quality of the soil and the mild climate.
An ancient Sardinian Nuraghe, a building developed during the Nuragic Age (1900-700 Before Christ), and located in a place called "Lu Crabioni", gave the name to the company. The private garden of this millennial residence is a vast vineyard area that rises in front of the Asinara enchanting bay.
The production of high quality wines is the main company's goal and achievable through its natural and human resources.